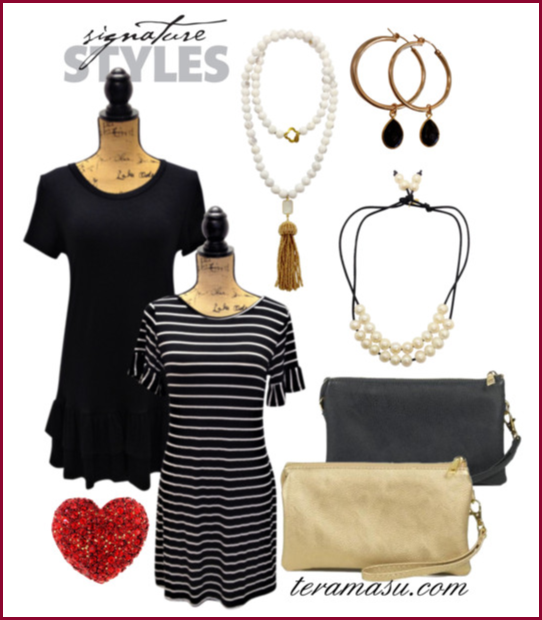 "Elegance is the only beauty that never fades."--Audrey Hepburn
...
There's just something about February that inspires gorgeous fashion trends and elegant outfit ideas. And at Teramasu, we can't wait to help you keep your stunning style full of class and beauty! This Saturday, we are falling in love with the sophisticated simplicity of black, white, and gold...the perfect combination for Valentine's Day and fabulous date nights. From the perfect Little Black Dress to unique, handmade statement jewelry pieces, here are our crush-worthy, ladylike fashion picks: 
This adorable little black dress can be worn as a dress or tunic, featuring a classic t-shirt dress feel and elegant, flattering ruffled hem. 
This beautiful dress features a classic black and white stripe, gorgeous ruffle sleeves, and a comfortably flattering fabric and cut
This one-of-a-kind statement necklace features a gorgeous combination of white and gold through its beautiful white agate beading and stunning moonstone and gold tassel drop.
These stunning earrings feature a gorgeous combination of black and gold and are a comfortable weight while also having a classic hoop, drop look. 
This beautiful necklace can be worn long or short and is the perfect combination of classic style and sophisticated simplicity through its black and white combination. 
These colorful and adorable bags can work as a wallet, wristlet, clutch, and crossbody and are perfect for living life stylishly.