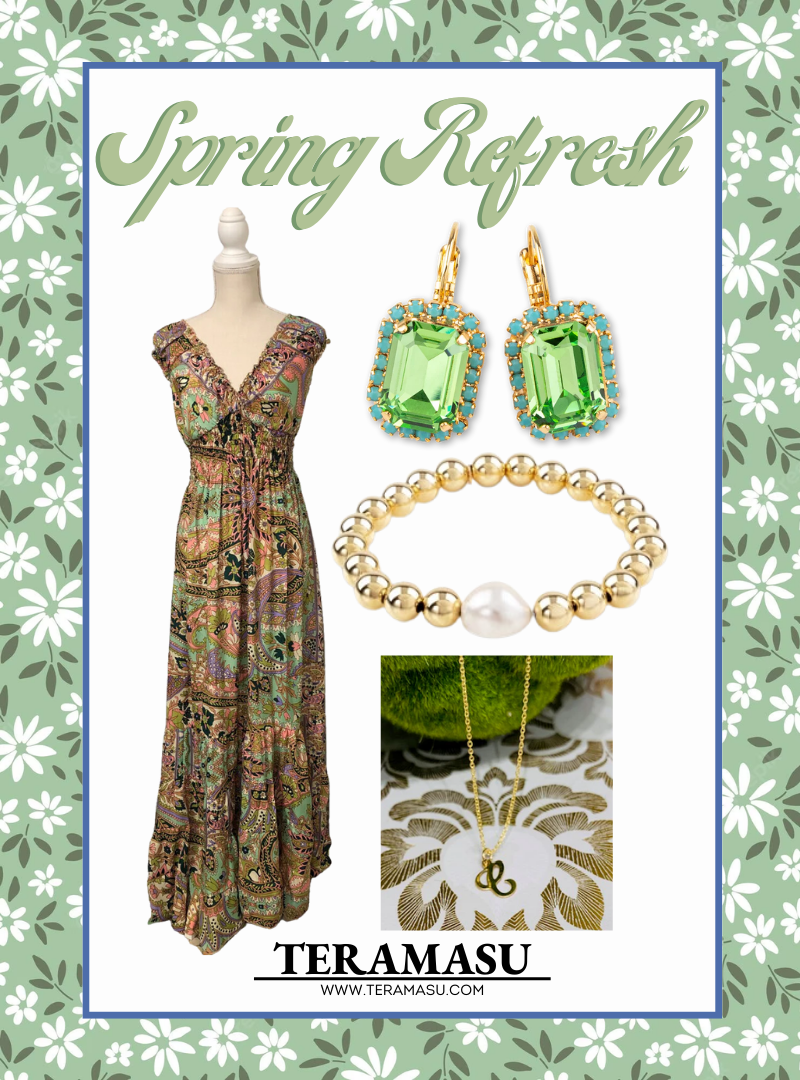 Happy Thursday fashion-lovers! Are you looking to refresh your wardrobe? Spring is happening now at Teramasu! Add some fresh new looks to your one of a kind style with bold spring arrivals from Teramasu! From bold patterns in our chic apparel to gorgeous colors and design in our one of a kind jewelry, the perfect pieces for your style are waiting for you at Teramasu. This week we are in love with fabulous florals for your fabulous style!
Our apparel new arrivals feature gorgeous, adorable, and timelessly classic fashion from Teramasu for your one-of-a-kind style. 
Add some real sparkle and style with our new jewelry designs. Teramasu Handmade Designer Jewelry has been handmade in the United States in the gorgeous Historic Village of Pinehurst North Carolina since 1999. Valuing American-made design, our one of a kind Teramasu Handmade Jewelry Collection is inspired by artist Terrie Moses' love for travel, elements of coastal inspiration, concepts from nature, and appreciation of coastal and southern ways of life.
Gorgeous, handmade designer Teramasu  Green Square Crystal with Turquoise Blue Rhinestones Lever back Gold Drop Earrings. These little beauties have a real wow factor and some major sparkle. They feature gorgeous shimmering aqua blue, square-cut  crystals surrounded by turquoise crystal rhinestones, all set in a classic gold plated lever back drop setting. Earring drop measures approx. 1 inch.
The Teramasu Luxury Gratitude Bracelet in 14K Gold Filled With A Baroque Pearl Bridal Jewelry Purity Generosity Loyalty. Handmade designer Teramasu Gratitude Bracelet in 14K Gold Filled and Baroque Pearl. This handmade designer bracelet is a beautiful reminder to begin each day with a heart full of Gratitude to invite abundance into your life. This stunning stretch bracelet features a classic white baroque pearl, 14K Gold Filled Beading and signature gold Teramasu tag. Bracelet measures approx. 7 inches but stretches (custom length can be made per request, please reach out to customerservice@teramasu.com for more information).
With regard to the meaning behind this gorgeously designed bracelet, pearls are truly one-of-a-kind amongst other gemstones because they don't come from the earth but are of the sea. Pearls are considered to be the only gemstone naturally produced by living creatures (mollusks) and when it comes to their natural beauty, baroque pearls require no special shaping or enhancing in order to make the most of their radiant exquisiteness. Their natural shine and gloss (which has become its signature trademark) has been treasured and cherished since ancient times well into fashion and Hollywood icons, ensuring that pearl jewelry always remains in style. Pearls are the perfect, meaningful stone as they are said to symbolize purity, generosity, integrity, as well as loyalty in its wearer. It has also been believed to promote knowledge, morality, and prosperity. Pearl jewelry is considered to be the perfect accessory for brides on their wedding day, reflecting both tradition and class throughout cultures.

The Gratitude Collection was created to inspire you with an positive message that a heart full of gratitude will invite abundance into your life. By wearing these one of a kind bracelets, you are reminded of that message each day with beauty composed of handmade jewelry design by Teramasu in our studio in the Village of Pinehurst North Carolina. Each bracelet comes wrapped and displayed in a classic black and white box, Teramasu Gratitude Bracelet description booklet, and black and white bow.
The Teramasu Initial Script Letter 14K Gold Filled Necklace. This necklace is the perfect personal Gift, and it measures 18 inch. The pendant letter measures 11mm x 6mm.
Teramasu Beautiful Pastel Colorful Paisley Short Sleeve Ruffle Dress. This dress features Easy To Dress Up, Short Sleeve With Ruffle, Elastic Smock Waist, 100% Polyester, Machine Wash Using Gentle Cycle, Do Not Tumble Dry. Hang To Dry., and One Size Fits Most.
---
About Teramasu:
The style behind Teramasu designs has always been that of classic and timeless beauty, adding splashes of color and playful designs to reflect the spark of its unique personality. Teramasu is built on the belief that to create a beautiful design you must focus on the true source of beauty which comes from within yourself. The Teramasu Boutique in The Village of Pinehurst, North Carolina features elegant style through its collections of designer women's jewelry, clothing, accessories and home décor…pairing your favorite trends with timeless classic design ensuring that true beauty never fades.