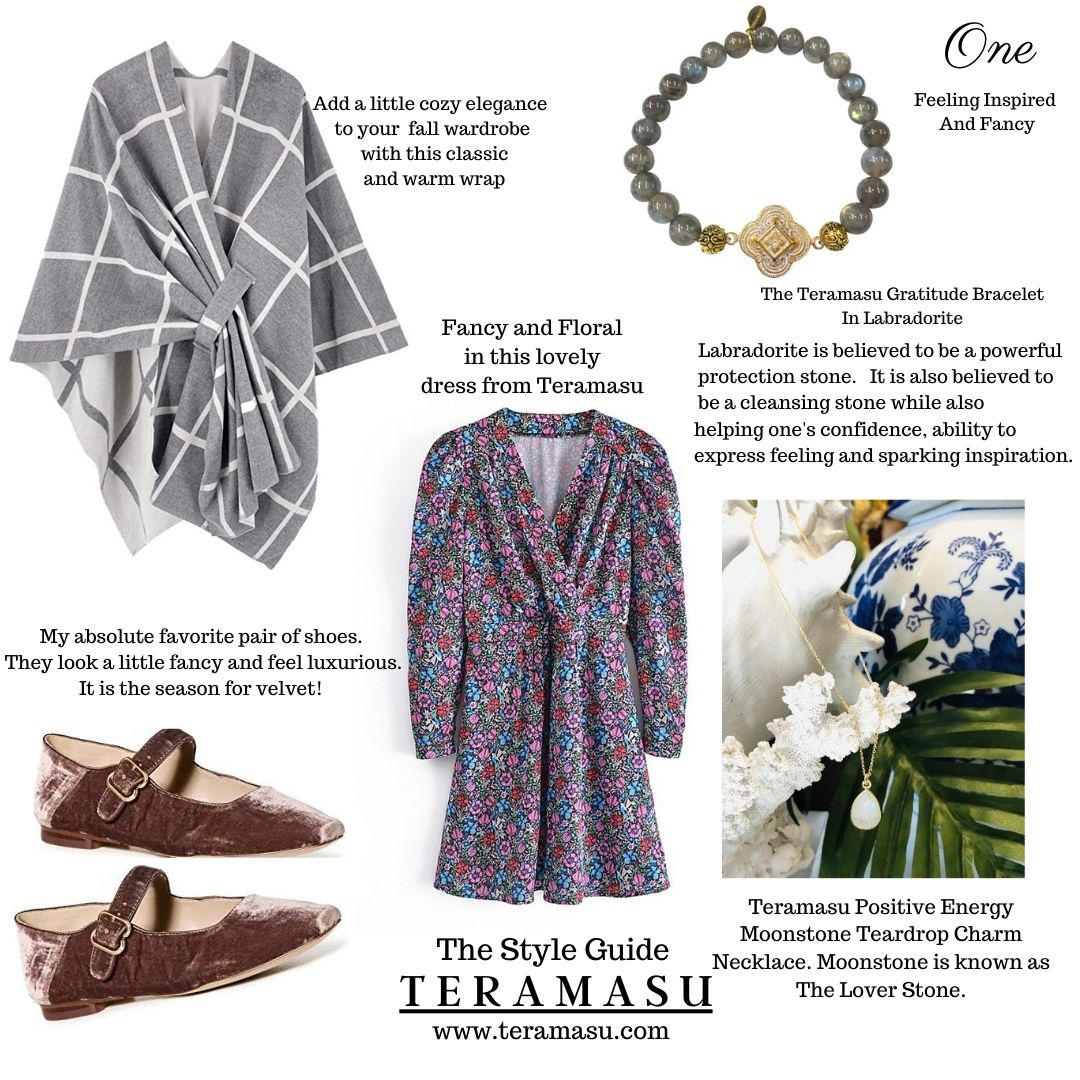 So excited to introduce you to The New Teramasu Style Guide.
A place where you can come for the latest in fashion and
inspiration 
for you,
your home and lifestyle.
The Teramasu Labradorite Gratitude Bracelet 
Labradorite is believed to be a powerful
protection stone.
It is also believed to
be a cleansing stone while also
helping one's confidence, ability to
express feelings and spark inspiration.
Order Your Gratitude Bracelet
Add a little cozy elegance to your fall wardrobe with this classic and warm wrap.
Loving the beautiful neutral color of this cape.
Perfect for those chilly days.  Order this Beautiful Cape
 Fancy and Floral in this lovely dress from Teramasu.
My absolute favorite fancy shoes! So luxurious and comfortable.
 Teramasu Positive Energy Moonstone Teardrop Charm Necklace.
Moonstone is known as The Lover Stone.
 At Teramasu, we also offer custom jewelry designs that are sure to be the perfect gift for that someone special in your life! Teramasu Accessories has been designing fashion and accessory styles since 1999. Creating timeless beauty, Designer Terrie Moses brings to life amazing designer jewelry giving it the "Teramasu Spark." Inspired by Terrie's adventurous lifestyle and travels, The Teramasu Jewelry Collection combines a beautifully colorful selection of stunning stones with elegant design. Teramasu is also a reflection of Terrie's love for the ocean and rekindled memories of seaside lifestyle, while also incorporating her love of gardening and her favorite design element of nature and flowers. If you are looking for a custom design please call us at (910)777-5513 or come visit us at the Teramasu Boutique in The Village of Pinehurst, NC. Both our in store and online selection features elegant style through its collections of designer women's jewelry, clothing, accessories and home décor…pairing your favorite trends with timeless classic design ensuring that true beauty never fades.
 Be sure to visit us in store in the Village of Pinehurst, online, and on social media (Instagram (@teramasuaccessories), Facebook (Teramasu),  for even more chic style advice, exceptional customer service, and for complete access to new outfit updates! ! Be sure to check out our weekly blogs, showcasing our handmade designer jewelry, one of a kind fashion, gift guides and outfit inspirations!
xoxo,