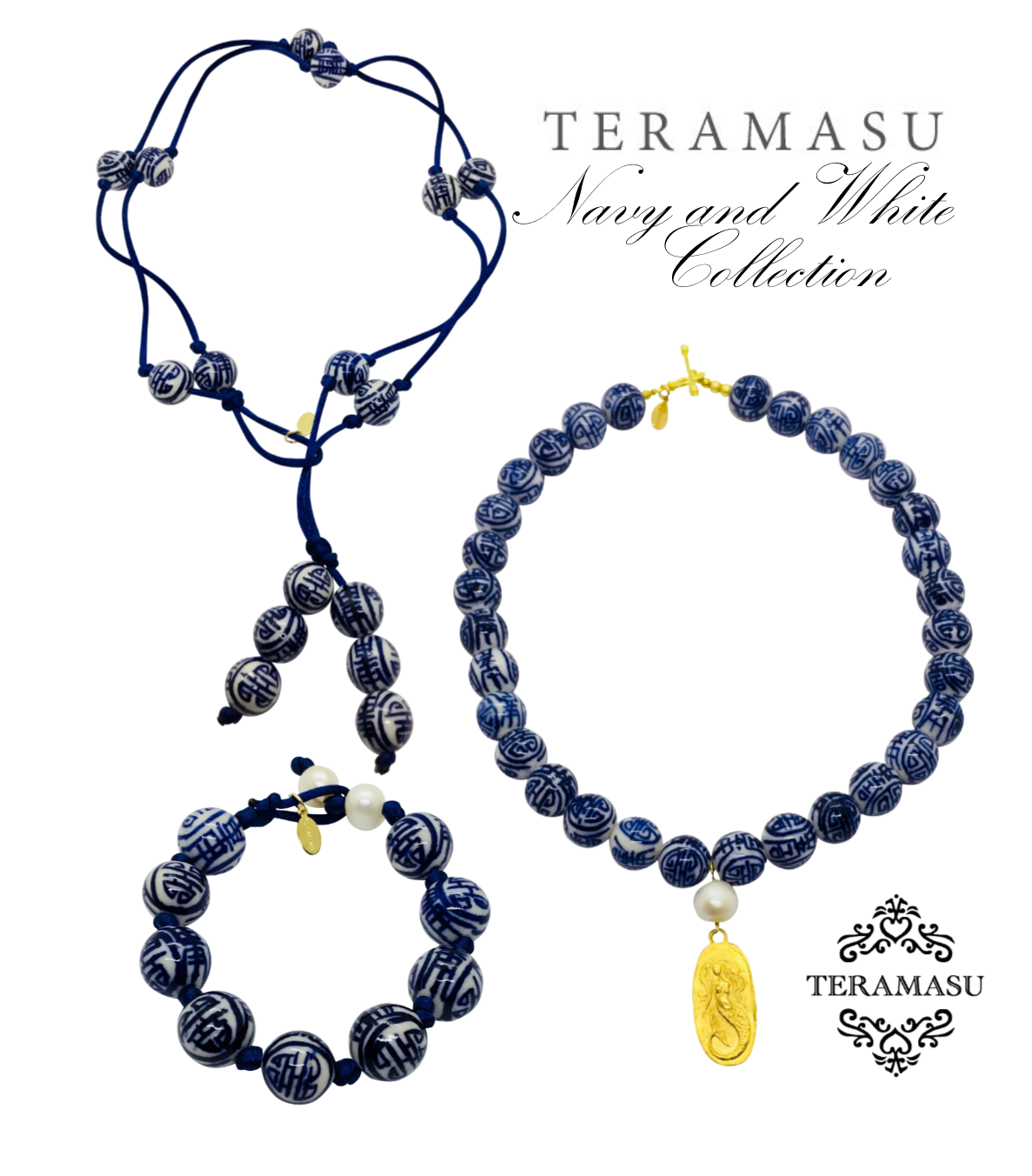 Navy and white is a truly classic color combination that works for any event and for an everyday chic style. At Teramasu, we are pleased to introduce our new Teramasu Navy and White Collection. Handmade in The Village of Pinehurst, North Carolina, these one-of-a-kind necklaces, bracelets, and earrings are the perfect blend of meaningful sophistication and fashionable statement pieces.
With warmer weather on its way, keep your free-spirited and classy style on trend with our Teramasu Hand-Painted Blue and White Porcelain Gold Mermaid with Pearl Necklace. This one-of-a-kind jewelry piece is sure to satisfy any mermaid and beach lover and with its gorgeous nautical navy and white combination, this handmade classic offers a tropical vibe with its unique hand-painted porcelain beading, a beautiful gold mermaid charm, sophisticated gold toggle clasp, and a stunning freshwater pearl. 
For a truly classic and coastal feel, our Teramasu Pearl on Navy Satin Bracelet is the perfect mix of subtle sophistication with true meaningful beauty. Handmade with a gorgeous combination of navy and white, this bracelet features pearls which are said to symbolize purity, generosity, integrity, and wealth. 
For a classic but versatile look, our Teramasu Hand-Painted Blue And White Porcelain Navy Satin Lariat will be the perfect statement jewelry piece for any trend setter and style lover. With a gorgeous navy and white combination set on comfortable but sophisticated blue satin, this unique handmade necklace can be worn as a lariat or as a long necklace. Similarly, our Teramasu Hand-painted Blue and White Porcelain Navy Satin with Pearl Bracelet features the beautiful hand-painted navy and white combination set on blue satin, but adds a chic nautical feel with porcelain beading and the addition of freshwater pearls.
Our Teramasu Blue and White Hand Painted Porcelain Design Blue Sodalite Stretch Bracelet and Teramasu Hand Painted Blue and White Porcelain Gold Filled Toggle Bracelet With Moonstone are the perfect navy and white statement bracelets to add class right into your outfits as the hand painted porcelain beads add subtle but gorgeous color and pattern to your style.
Our Teramasu Pagoda Blue and White Hand Painted Porcelain Earrings are truly a one of a kind piece as the navy and white porcelain compliments the gold pagoda pendant. A true conversation starter, these handmade earrings feature the symbolic pagoda, and it is said that a person who is knowledgeable will stand firm like a mountain or pagoda and cannot be shaken by anything as pagodas represent strength and rehabilitation through the power to tame disorderly minds.