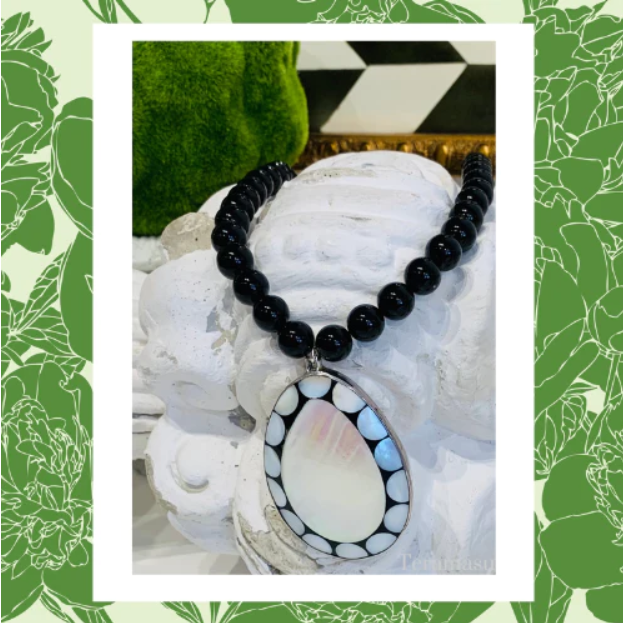 Happy Tuesday gorgeous fashion-lovers! Mother's Day is only a few days away and are you still looking for the perfect gift for that extra special woman in your life? Visit Teramasu, located conveniently in The Village in Pinehurst, North Carolina, for that personal shopping experience, and we'll help you find the perfect meaningful Mother's Day present that she will love. Our store features a selection of unique, handmade jewelry that will be just the thing for that one of a kind person in your life. We also showcase an array of fashionable clothing, purses, and handmade one-of-a-kind scarves that will bring the latest trends right to her wardrobe.
This week, we are loving the classic black and white pairing in our new jewelry arrivals - the perfect statement piece to show her you love her. Featuring a gorgeous mix of bold black onyx and classic pearl, these timeless pieces will be just as one of a kind as she is.
Black Onyx Mother of Pearl SS One of a Kind Handmade Necklace
This Black Onyx Mother of Pearl necklace is an exquisite piece of jewelry crafted by hand for a truly one of a kind experience. Combining the timeless beauty of Black Onyx and the brilliant Mother of Pearl, this necklace soars above all others in exquisite style. Perfect for adding a touch of refinement and luxury to any outfit.. 18 inch plus Pendant.
Black Onyx helps its wearer build strength, and the energy of this stone is said to encourage wise decision-making while also inspiring happiness and good fortune through its comforting and healing properties. A beautiful but powerful protection stone, Black Onyx is known to absorb and convert negative forces while preventing the drain of its wearer's own energy. 
"Baroque pearls" are asymmetrical pearls that are naturally formed in mollusks. Pearls are truly one-of-a-kind amongst other gemstones because they don't come from the earth but are of the sea. Pearls are considered to be the only gemstone naturally produced by living creatures (mollusks) and when it comes to their natural beauty, baroque pearls require no special shaping or enhancing in order to make the most of their radiant exquisiteness. Their natural shine and gloss (which has become its signature trademark) has been treasured and cherished since ancient times well into fashion and Hollywood icons, ensuring that pearl jewelry always remains in style. Pearls are the perfect, meaningful stone as they are said to symbolize purity, generosity, integrity, as well as loyalty in its wearer. It has also been believed to promote knowledge, morality, and prosperity.  Pearl jewelry is considered to be the perfect accessory for brides on their wedding day, reflecting both tradition and class throughout cultures.
Teramasu Black Onyx Pearl Gold Design Drop Dangle Earrings
Invoke an aura of opulence with these exquisite Teramasu Black Onyx Gold Design Drop Dangle Earrings. Crafted with an intricate gold design, they boast classic styling while radiating grace and sophistication. A perfect accessory for the ultimate showstopping look.
---
About Teramasu:
The style behind Teramasu designs has always been that of classic and timeless beauty, adding splashes of color and playful designs to reflect the spark of its unique personality. Teramasu is built on the belief that to create a beautiful design you must focus on the true source of beauty which comes from within yourself. The Teramasu Boutique in The Village of Pinehurst, North Carolina features elegant style through its collections of designer women's jewelry, clothing, accessories and home décor…pairing your favorite trends with timeless classic design ensuring that true beauty never fades.