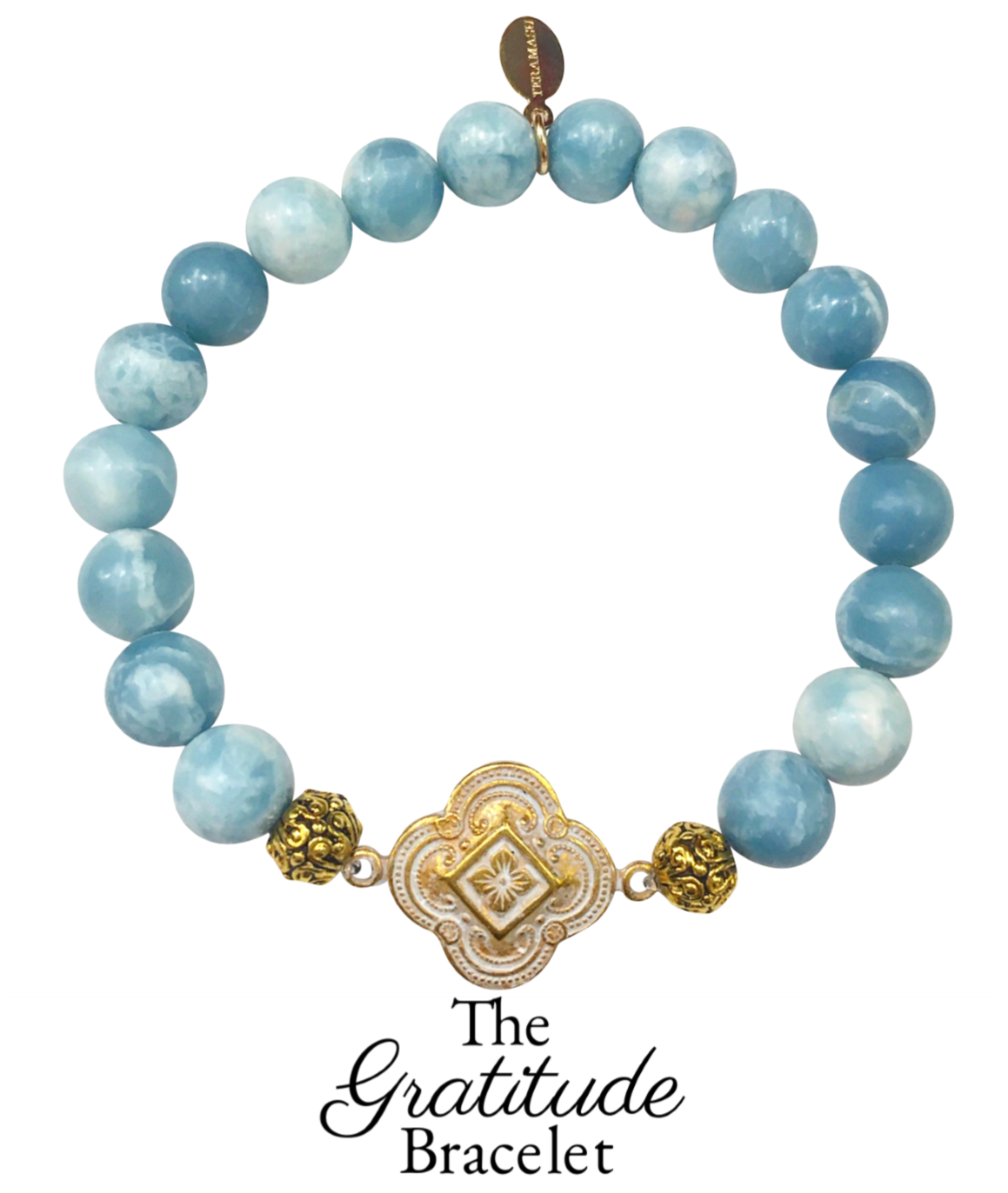 The gorgeous, handmade designer Teramasu Gratitude Bracelet in Sky Blue Larimar. This gorgeous, handmade designer bracelet is a beautiful reminder to begin each day with a heart full of Gratitude to invite abundance into your life. This stunning stretch bracelet features bright sky blue and white larimar beading, gorgeous patina quatrefoil clover accent, gold beading, and signature gold Teramasu tag. 
With regard to the meaning behind this gorgeously designed bracelet, Larimar  is believed to help its wearer with enlightenment and healing in a physical, emotional, mental and spiritual way. It is also believed to be a stone that promotes peace, love, and wisdom while radiating positive and healing energies. The patina quatrefoil clover design is an ancient symbol of good luck and since it is readily dividable into equal portions, it is said to also symbolize harmony, symmetry, and proportion.The design is a representation of a flower with four petals.
At Teramasu, we also offer custom jewelry designs that are sure to be the perfect gift for that someone special in your life! Teramasu Accessories has been designing fashion and accessory styles since 1999. Creating timeless beauty, Designer Terrie Moses brings to life amazing designer jewelry giving it the "Teramasu Spark." Inspired by Terrie's adventurous lifestyle and travels, The Teramasu Jewelry Collection combines a beautifully colorful selection of stunning stones with elegant design. Teramasu is also a reflection of Terrie's love for the ocean and rekindled memories of seaside lifestyle, while also incorporating her love of gardening and her favorite design element of nature and flowers. If you are looking for a custom design please call us at (910)777-5513 or come visit us at the Teramasu Boutique in The Beautiful Village of Pinehurst NC. Both our in store and online selection features elegant style through its collections of designer women's jewelry, clothing, accessories and home décor…pairing your favorite trends with timeless classic design ensuring that true beauty never fades.
Be sure to keep up with us for everyday updates on new arrivals, style guides, meaningful gift ideas, and fashion trends! We offer a weekly email newsletter that you can sign up for through this site, constant social updates through Facebook/ Twitter/ Instagram, or you can continue to share in our exciting news with our daily blog!
...
xoxo,