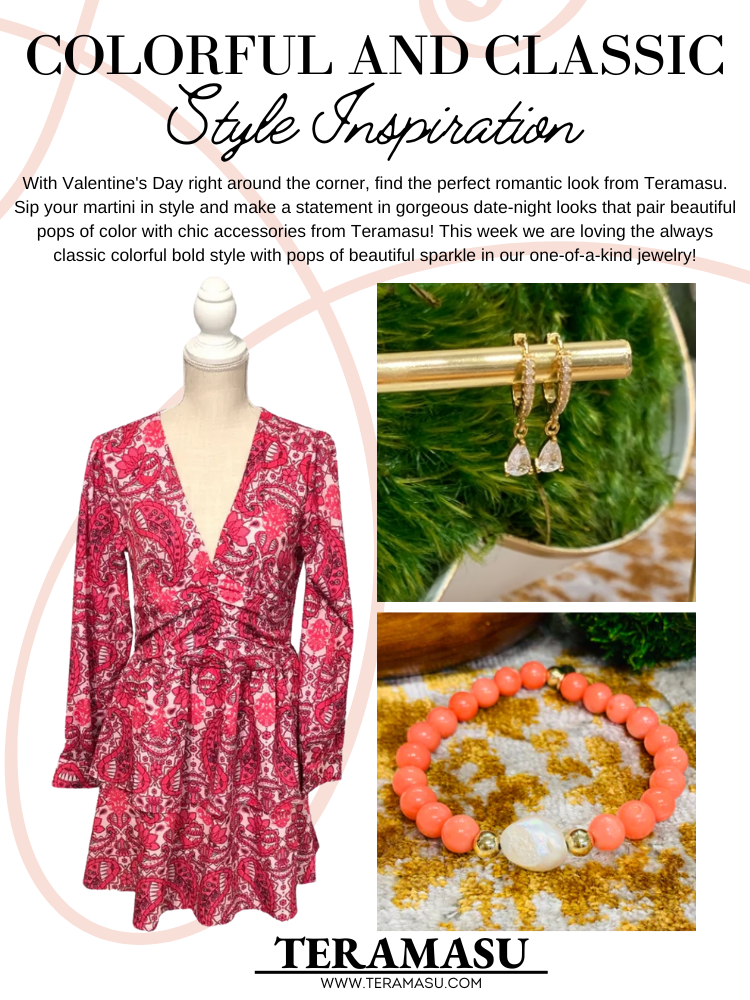 Happy Thursday fashion-lovers! With Valentine's Day right around the corner, find the perfect romantic look from Teramasu. Sip your martini in style and make a statement in gorgeous date-night looks that pair beautiful pops of color with chic accessories from Teramasu! This week we are loving the always classic colorful bold style with pops of beautiful sparkle in our one-of-a-kind jewelry!
Shop some of our favorite bold, colorful, and classic styles from Teramasu!
The Teramasu Pink and White Paisley Design Long Sleeve Ruffle Dress. This dress features Pink and White Paisley Design, V-Neck, Hidden Zipper on Back
Long Sleeves, button cuffs, Two Tier Ruffled Skirt, Knee Length, and Ruffle Detail on Waist.

Gorgeous, handmade designer Teramasu CZ Crystal Hoop Sterling Silver Gold Plated Drop Earrings. These little beauties have a real wow factor and some major sparkle.

Handmade designer luxury Teramasu Gratitude Bracelet in Pink Coral Gemstone. This gorgeous, handmade designer bracelet is a beautiful reminder to begin each day with a heart full of Gratitude to invite abundance into your life. This stunning stretch bracelet features vibrant pink coral gemstone beading, 14K gold Filled beading, and signature gold Teramasu tag. Bracelet measures approx. 7 inches but stretches (custom length can be made per request, please reach out to customerservice@teramasu.com for more information).
With regard to the meaning of Pink Coral it has the power to lead people to success and the power to purify negative energy. Coral is considered to be a great source of energy in life. It is recognized as one of the oldest stones in history, having been worn by warriors and kinds. It is known as a stone of love and friendship, offering its wearer protection from negative energies while also offering feelings of peace and kindness.  
The Gratitude Collection was created to inspire you with an positive message that a heart full of gratitude will invite abundance into your life. By wearing these one of a kind bracelets, you are reminded of that message each day with beauty composed of handmade jewelry design by Teramasu in our studio in the Village of Pinehurst North Carolina. Each bracelet comes wrapped and displayed in a classic black and white box, Teramasu Gratitude Bracelet description booklet, and black and white bow.
---
About Teramasu:
The style behind Teramasu designs has always been that of classic and timeless beauty, adding splashes of color and playful designs to reflect the spark of its unique personality. Teramasu is built on the belief that to create a beautiful design you must focus on the true source of beauty which comes from within yourself. The Teramasu Boutique in The Village of Pinehurst, North Carolina features elegant style through its collections of designer women's jewelry, clothing, accessories and home décor…pairing your favorite trends with timeless classic design ensuring that true beauty never fades.