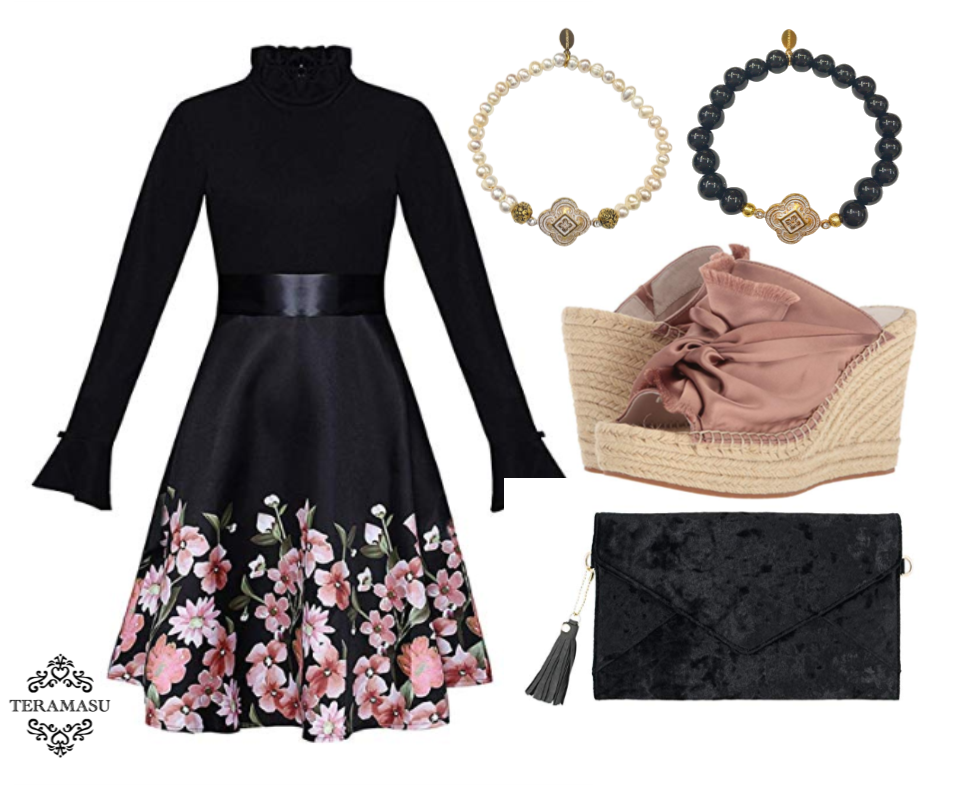 Happy Wednesday gorgeous fashion lovers and cheers to tomorrow's Valentine's Day celebrations! There's just something about February that inspires gorgeous fashion trends and elegant outfit ideas. And at Teramasu, we can't wait to help you keep your stunning style full of class and beauty! This Wednesday, we are falling in love with the sophisticated simplicity of black, white, and pops of pink...the perfect combination for Valentine's Day and fabulous date nights. From the perfect Little Black Dress to unique, handmade statement jewelry pieces, here are our crush-worthy, ladylike fashion picks...
To begin, we love the classic chic style in this adorable little black dress with floral. Black and white paired with a bold pop of pink floral makes for the perfect romantically chic date night style!
For the perfect meaningful accessory to tell her "I love you" and perfect date night arm candy, we love to stack our The Teramasu Gratitude Bracelet in Pearl with our The Teramasu Gratitude Bracelet in Black Onyx for the perfect black and white pair. The Gratitude Collection was created to inspire you with an positive message that a heart full of gratitude will invite abundance into your life. By wearing these one of a kind bracelets, you are reminded of that message each day with beauty composed of handmade jewelry design by Teramasu in our studio in the Village of Pinehurst North Carolina. Each bracelet comes wrapped and displayed in a classic black and white box, Teramasu Gratitude Bracelet description booklet, and black and white bow.
Add a bold pop of color and height to your date night look with a classic blush pink wedge!
Add a chic flare of unique design with a gorgeous black velvet clutch purse!
...
What is your favorite way to dress up for Valentine's Day?
...
At Teramasu, we also offer custom jewelry designs that are sure to be the perfect gift for that someone special in your life! Teramasu Accessories has been designing fashion and accessory styles since 1999. Creating timeless beauty, Designer Terrie Moses brings to life amazing designer jewelry giving it the "Teramasu Spark." Inspired by Terrie's adventurous lifestyle and travels, The Teramasu Jewelry Collection combines a beautifully colorful selection of stunning stones with elegant design. Teramasu is also a reflection of Terrie's love for the ocean and rekindled memories of seaside lifestyle, while also incorporating her love of gardening and her favorite design element of nature and flowers. If you are looking for a custom design please call us at (910)777-5513 or come visit us at the Teramasu Boutique in The Village of Pinehurst, North Carolina. Both our in store and online selection features elegant style through its collections of designer women's jewelry, clothing, accessories and home décor…pairing your favorite trends with timeless classic design ensuring that true beauty never fades.
Be sure to keep up with us for everyday updates on new arrivals, style guides, meaningful gift ideas, and fashion trends! We offer a weekly email newsletter that you can sign up for through this site, constant social updates through Facebook/ Twitter/ Instagram, or you can continue to share in our exciting news with our daily blog!
...
xoxo,