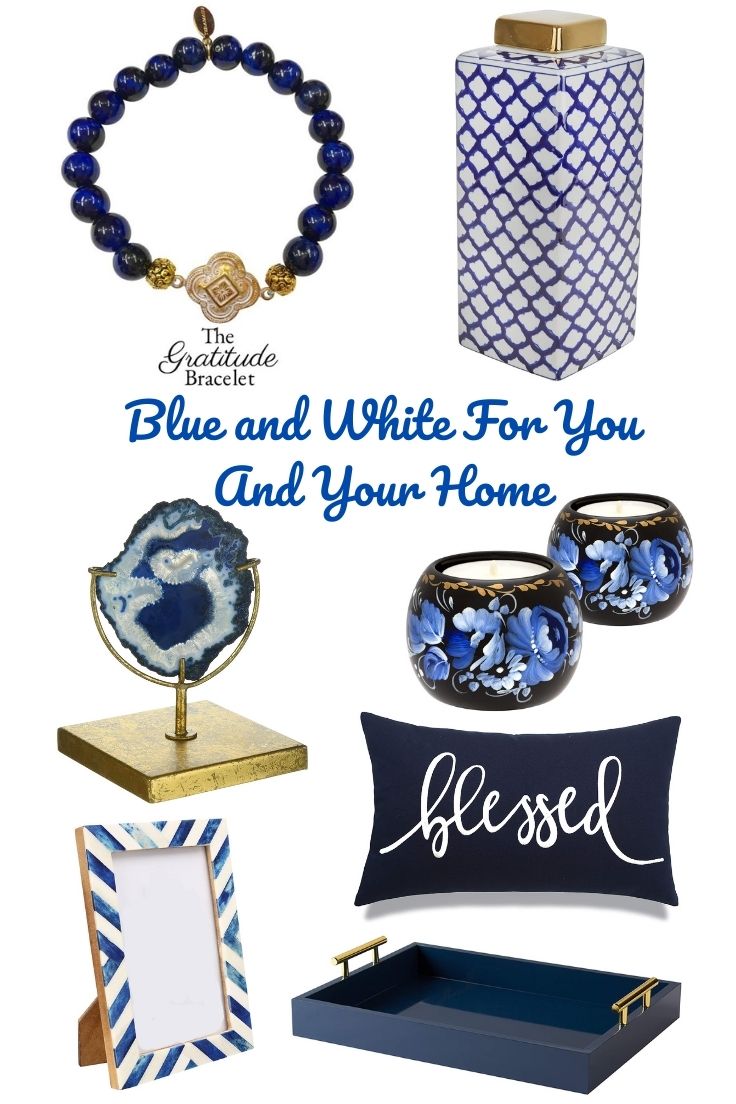 Happy Fall gorgeous fashion-lovers and cheers to a fabulous fall day and approaching October weekend! At Teramasu, our ambition is to encourage and continue timeless beauty and when considering fashion trends, we cannot help but love and crush over a classic blue and white home decor paired with our Blue Tigers Eye Gratitude Bracelet and for the beautiful home decor and chic fall look. 
The Teramasu Blue Tigers Eye Bracelet is the perfect reminder to begin each day with a heart full of Gratitude!
Tigers Eye is believed to help you to release fear and anxiety, aiding in feelings of harmony and balance while enforcing mental strength. It is also believed to stimulate taking action and decision making, helping you make choices with thought and understanding. It helps to balance emotions so that your mind can be effective and achieve positive results. 

Bringing nature into your home. This gorgeous Blue Agate Stone is the perfect accent for your home.
Serve up something wonderful with this Beautiful Blue Glossy Tray with Gold Handles.
Beautiful Blue and White Ceramic Jar with Gold Accent This home accent piece is a perfect way to displace in your kitchen or living room.
Adorable Navy Blue Embroidered Pillow Cover. Perfect accent for your home or to give as gift.  
Gorgeous Blue and White Handmade Chevron Pattern Bone Inlay Photo Frame
At Teramasu, we also offer custom jewelry designs that are sure to be the perfect gift for that someone special in your life! Teramasu Accessories has been designing fashion and accessory styles since 1999. Creating timeless beauty, Designer Terrie Moses brings to life amazing designer jewelry giving it the "Teramasu Spark." Inspired by Terrie's adventurous lifestyle and travels, The Teramasu Jewelry Collection combines a beautifully colorful selection of stunning stones with elegant design. Teramasu is also a reflection of Terrie's love for the ocean and rekindled memories of seaside lifestyle, while also incorporating her love of gardening and her favorite design element of nature and flowers. If you are looking for a custom design please call us at (910)777-5513 or come visit us at the Teramasu Boutique in The Village of Pinehurst, NC. Both our in store and online selection features elegant style through its collections of designer women's jewelry, clothing, accessories and home décor…pairing your favorite trends with timeless classic design ensuring that true beauty never fades.
 Be sure to visit us in store in the Village of Pinehurst, online, and on social media (Instagram (@teramasuaccessories), Facebook (Teramasu), and Twitter (@Teramasu1)) for even more chic style advice, exceptional customer service, and for complete access to new outfit updates! ! Be sure to check out our weekly blogs, showcasing our handmade designer jewelry, one of a kind fashion, gift guides, and outfit inspirations!
xoxo,