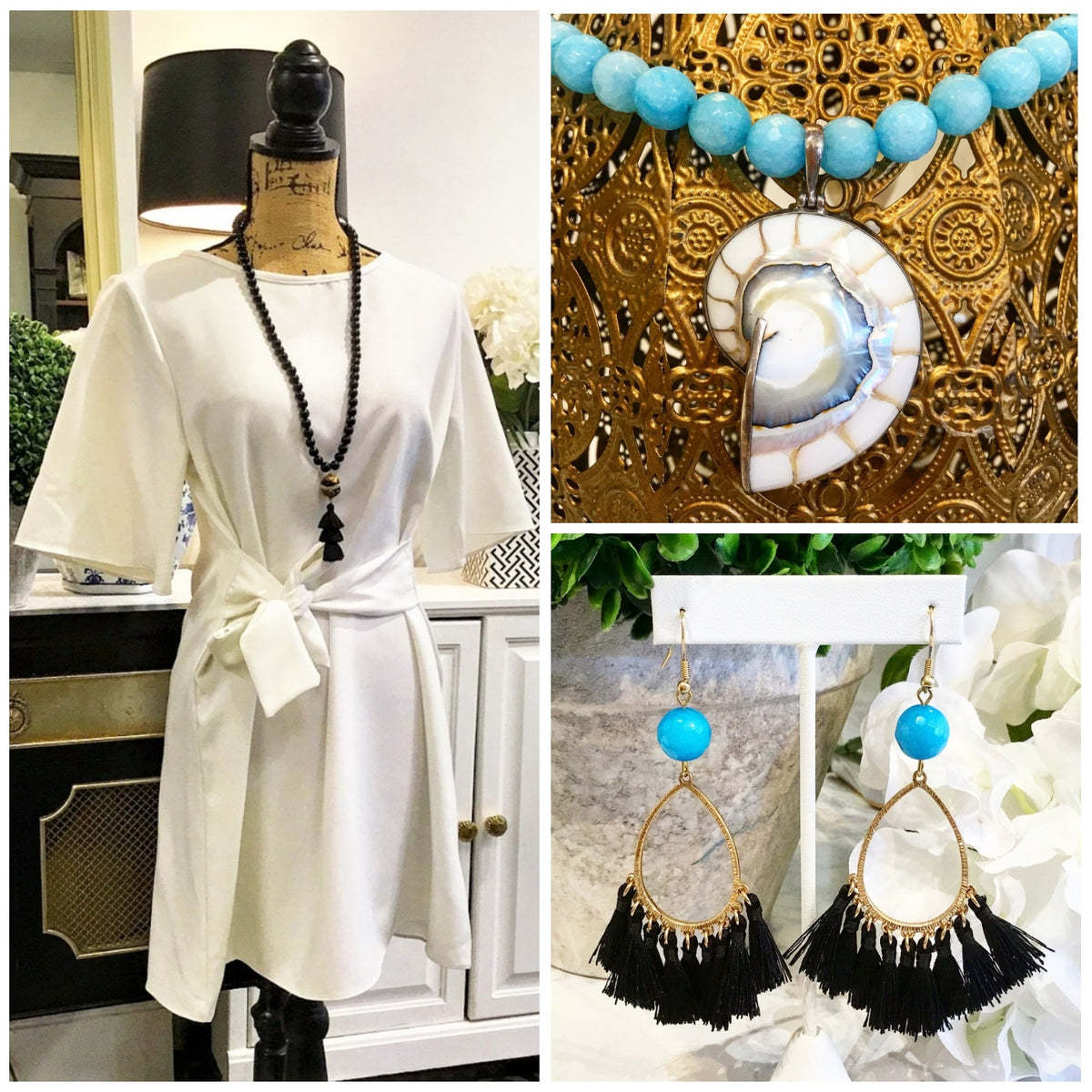 Happy Tuesday gorgeous fashion-lovers! At Teramasu, our ambition is to encourage and continue timeless beauty and when considering fashion trends, we cannot help but admire the sophisticated, classic style of blue and white fashion paired with one of a kind statement jewelry. On this sunny Tuesday we are popping the champagne in celebration of gorgeous weather and your one of a kind style, counting down the days until the start of July and adventures for July 4th! With brunch with besties and seaside coastal retreats in our hearts, we are absolutely loving the chic look of blue and white with a nautical, ocean-inspired flare. Classic blue & white style and design has become a true staple in fashion, perfect for both casual and formal events because of its sophisticated but comfortably elegant appeal. Its holds a sense of chic class and preppy style, perfect for fresh and coastal feel in your outfit inspirations. 
Our handmade designer jewelry collection is inspired by (our designer) Terrie's adventurous lifestyle and travels, combining a beautifully colorful selection of stunning stones with elegant design. Teramasu statement jewelry is also a reflection of her love for the ocean and rekindled memories of seaside lifestyle, while also incorporating her love of gardening and her favorite design element of nature and flowers. 
Statement and conversation-starting jewelry pieces have the ability to complete your outfit while also reflecting your eye-catching sense of style, especially paired with a truly classic dress. With seaside retreats and sunny day adventures in our heart, here's a look at our Living Ladylike: Gorgeous Blue & White Summer Outfit Inspiration from Teramasu!
Teramasu Classic White Tie Waist Dress with Cropped Bell Sleeves
Gorgeous, adorable Teramasu Classic White Tie Waist Dress with Cropped Bell Sleeves. This stunning little white dress is the perfect addition to your timeless style. It features a classic white silhouette, flattering boat-neckline, adorable adjustable tie-waist waistline (can be tied in the front or back), and comfortable scuba-knit fabric. This style would also be perfect for bridal showers, graduation events, and garden parties!
Teramasu Faceted Blue Dyed Jade and White Shell Pendant Necklace
Gorgeous, handmade designer Teramasu Faceted Blue Dyed Jade and White Shell Pendant Necklace. This beautiful handmade necklace features stunning blue dyed jade beading and a gorgeous one of a kind white shell pendant, highlighted by a silver accents. Necklace measure approx. 18 inches and shell pendant measures approx. 2 inches. This necklace would be perfect for the true mermaid and ocean lover, and would also be a unique "Something Blue" gift!
Teramasu Blue Jade and Black Tassel Earrings
Gorgeous, Handmade Designer Teramasu Blue Jade and Black Tassel Earrings. These stunning statement earrings will add some fun to your gorgeous style with their perfect combination of gorgeous color and one of a kind design. They feature beautiful faceted blue jade paired with unique black tassels, all highlighted by gold accents. Drop measures approx. 4 inches.
...
MEANING BEHIND THE JEWELRY:
Blue Jade is known as a stone of peace and serenity, offering wisdom and restoring emotional balance. It is also believed to help interpret dreams and expand knowledge, offering balance, healing, and calming properties.
...
At Teramasu, we also offer custom jewelry designs that are sure to be the perfect gift for that someone special in your life! 
Teramasu Accessories
 has been designing fashion and accessory styles since 1999. Creating timeless beauty, Designer Terrie Moses brings to life amazing designer jewelry giving it the "Teramasu Spark." If you are looking for a custom design please call us at (910)777-5513 or come visit us at the Teramasu Boutique in The Village of Pinehurst, North Carolina. Both our in store and online selection features elegant style through its collections of designer women's jewelry, clothing, accessories and home décor…pairing your favorite trends with timeless classic design ensuring that true beauty never fades.
-
Be sure to keep up with us for everyday updates on new arrivals, style guides, meaningful gift ideas, and fashion trends! We offer a weekly email newsletter that you can sign up for through this site, constant social updates through
Facebook
/
Twitter
/
Instagram
, or you can continue to share in our exciting news with our daily blog!
...
xoxo,