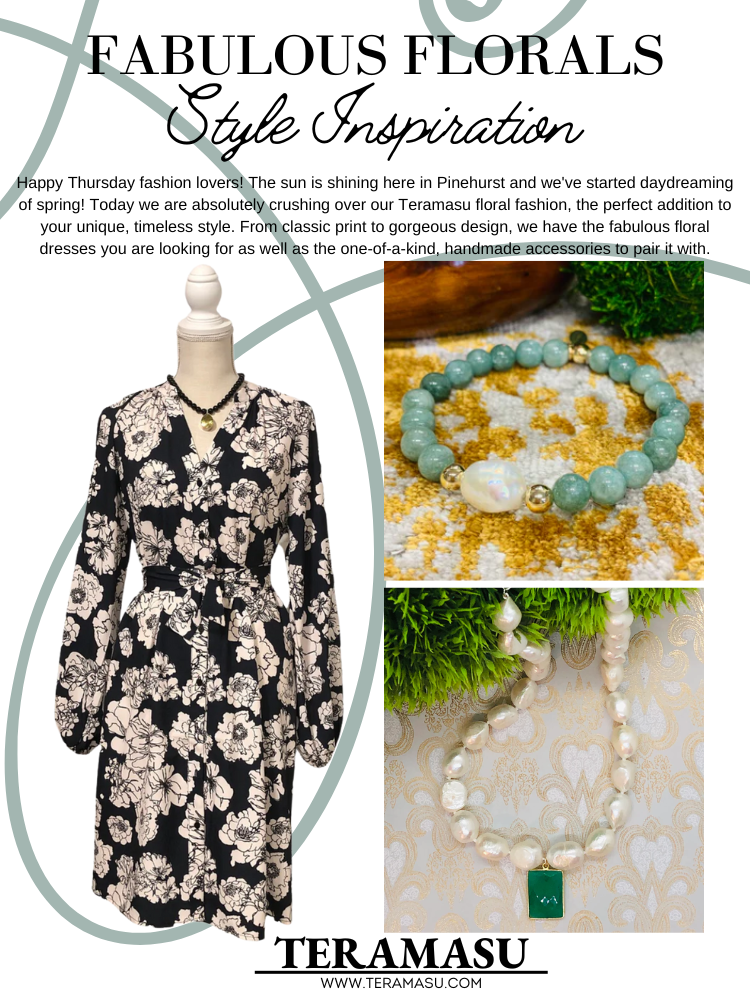 Happy Thursday fashion lovers! The sun is shining here in Pinehurst and we've started daydreaming of spring! Today we are absolutely crushing over our Teramasu floral fashion, the perfect addition to your unique, timeless style. From classic print to gorgeous design, we have the fabulous floral dresses you are looking for as well as the one-of-a-kind, handmade accessories to pair it with.

Shop the look below:
The gorgeous, handmade designer Teramasu Gratitude Bracelet in Green Jade. This gorgeous, handmade designer bracelet is a beautiful reminder to begin each day with a heart full of Gratitude to invite abundance into your life. This stunning stretch bracelet features vibrant green jade beading, 14K Filled gold beading, and signature gold Teramasu tag. Bracelet measures approx. 7 inches but stretches (custom length can be made per request, please reach out to customerservice@teramasu.com for more information).
With regard to the meaning behind this gorgeously designed bracelet,  Jade has been highly valued and its rock has been used for jewelry, statues, and a variety of other items from the spiritual to the ever day. Jade is believed to be a healing stone, carrying positive and nourishing energies. It is also found to have a soothing purity, offering feelings of acceptance, love, wisdom, and knowledge. Jade is also associated with youth and powerful healing properties. Green Jade is believed to be a stone of soothing energies, purity, harmony, and balance. It is believed to be a healing stone, aiding in knowledge, creativity, and courage. Green Jade is also said to be a stone of love, support, and trust. 
The Gratitude Collection was created to inspire you with an positive message that a heart full of gratitude will invite abundance into your life. By wearing these one of a kind bracelets, you are reminded of that message each day with beauty composed of handmade jewelry design by Teramasu in our studio in the Village of Pinehurst North Carolina. Each bracelet comes wrapped and displayed in a classic black and white box, Teramasu Gratitude Bracelet description booklet, and black and white bow.
Teramasu Blue and White Floral Print Button Down Long Sleeve with Tie Belt. This dress features Blue and White Floral Print. Button Down, Long Sleeve with Tie Belt, Relaxed Fit Yet Elegant, and is Suitable For All Four Seasons.
The Teramasu Baroque Pearl Necklace With Green Onyx. Necklace measures approximately 18 inches. 
When it comes to styling our stunningly classic pearl statement jewelry, we love to look at history's timeless fashion icons for outfit and style inspiration. British actress, humanitarian, and fashion icon, Audrey Hepburn, was a woman of timeless style and became arguably best known for her pairing of a little black dress and pearls for her role as Holly Golightly in Breakfast at Tiffany's (1961). Her chic use of simple but stunning statement pearl jewelry highlighted her classic beauty and sophistication. Jackie Kennedy's one of a kind, classic style inspired entire generations of women and the art of women's fashion.  She coined the belief that "pearls are always appropriate" and anytime is a good time for a chic outfit and pearls, creating and enforcing the unique elegance that comes with wearing pearl jewelry. Although famous for singing that "diamonds are a girl's best friend," one of Marilyn Monroe's most treasured pieces of jewelry was a simple but stunning string of pearls given to her by baseball player Joe DiMaggio during their honeymoon in Japan. Another true style icon, she always opted for jewelry that enhanced her natural beauty, opting and loving to wear strands of pearl necklaces and other classic pearl jewelry.
"Baroque pearls" are asymmetrical pearls that are naturally formed in mollusks. Pearls are truly one-of-a-kind amongst other gemstones because they don't come from the earth but are of the sea. Pearls are considered to be the only gemstone naturally produced by living creatures (mollusks) and when it comes to their natural beauty, baroque pearls require no special shaping or enhancing in order to make the most of their radiant exquisiteness. Their natural shine and gloss (which has become its signature trademark) has been treasured and cherished since ancient times well into fashion and Hollywood icons, ensuring that pearl jewelry always remains in style. Pearls are the perfect, meaningful stone as they are said to symbolize purity, generosity, integrity, as well as loyalty in its wearer. It has also been believed to promote knowledge, morality, and prosperity.  Pearl jewelry is considered to be the perfect accessory for brides on their wedding day, reflecting both tradition and class throughout cultures.
---
About Teramasu:
The style behind Teramasu designs has always been that of classic and timeless beauty, adding splashes of color and playful designs to reflect the spark of its unique personality. Teramasu is built on the belief that to create a beautiful design you must focus on the true source of beauty which comes from within yourself. The Teramasu Boutique in The Village of Pinehurst, North Carolina features elegant style through its collections of designer women's jewelry, clothing, accessories and home décor…pairing your favorite trends with timeless classic design ensuring that true beauty never fades.