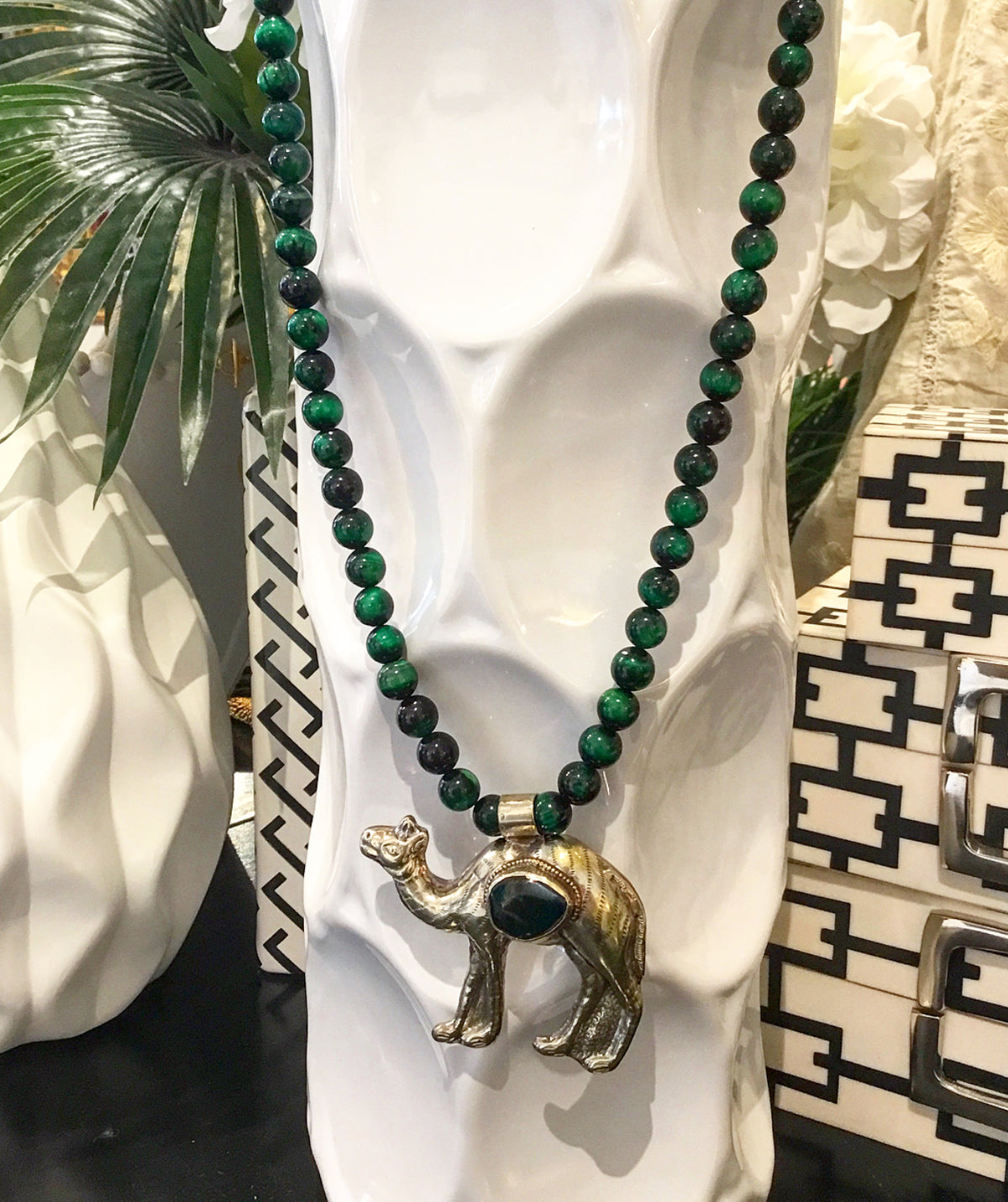 Happy Tuesday gorgeous fashion-lovers! On this beautiful beginning of the week we are popping the champagne in celebration of gorgeous weather, a fabulous day, your one of a kind style, and the arrival of new jewelry designs. At Teramasu, our ambition is to encourage and continue timeless beauty, and we are thrilled to introduce our gorgeous, new handmade designer Teramasu Verdite Necklace with One-of-a-Kind Camel Pendant. This stunning statement necklace is a true piece of unique art. It features stunning deep green verdite beading paired with a one of a kind, silver and verdite camel pendant, all tied together with silver accents. Necklace measures approx. 32 inches and pendant drop measures approx. 2.5 inches (custom length can be made per request, please reach out to customerservice@teramasu.com for more information). It will make the perfect animal-inspired statement piece for your unique style or the perfect meaningful gift for the true art-lover in your life!
Verdite is a stunning deep green stone, making for the perfect addition to jewelry, art, and sculptures. Verdite is believed to boost strength, reliability and honesty, while also being associated with the improvement of respiratory and circulatory systems. Verdite is also known to be a healing stone, helping create feelings of balance, patience, and purity. The camel is a symbolic animal said to represent journeying, heart, and long-distance travel. Camels are also associated with personal traits such as stability, patience, calm, enduring, self-sufficiency, and commitment.
We especially love the look of this necklace paired with our  Teramasu Green Swarovski Crystal with Turquoise Crystal Rhinestones Leverback Gold Drop Earrings and Teramasu Black Onyx and Tumbled Glass Bead With Black & White Agate Stone Stretch Bracelet. 
...
At Teramasu, we also offer custom jewelry designs that are sure to be the perfect gift for that someone special in your life! 
Teramasu Accessories
 has been designing fashion and accessory styles since 1999. Creating timeless beauty, Designer Terrie Moses brings to life amazing designer jewelry giving it the "Teramasu Spark." If you are looking for a custom design please call us at (910)777-5513 or come visit us at the Teramasu Boutique in The Village of Pinehurst, North Carolina. Both our in store and online selection features elegant style through its collections of designer women's jewelry, clothing, accessories and home décor…pairing your favorite trends with timeless classic design ensuring that true beauty never fades.
Be sure to keep up with us for everyday updates on new arrivals, style guides, meaningful gift ideas, and fashion trends! We offer a weekly email newsletter that you can sign up for through this site, constant social updates through
Facebook
/
Twitter
/
Instagram
, or you can continue to share in our exciting news with our daily blog!
...
xoxo,