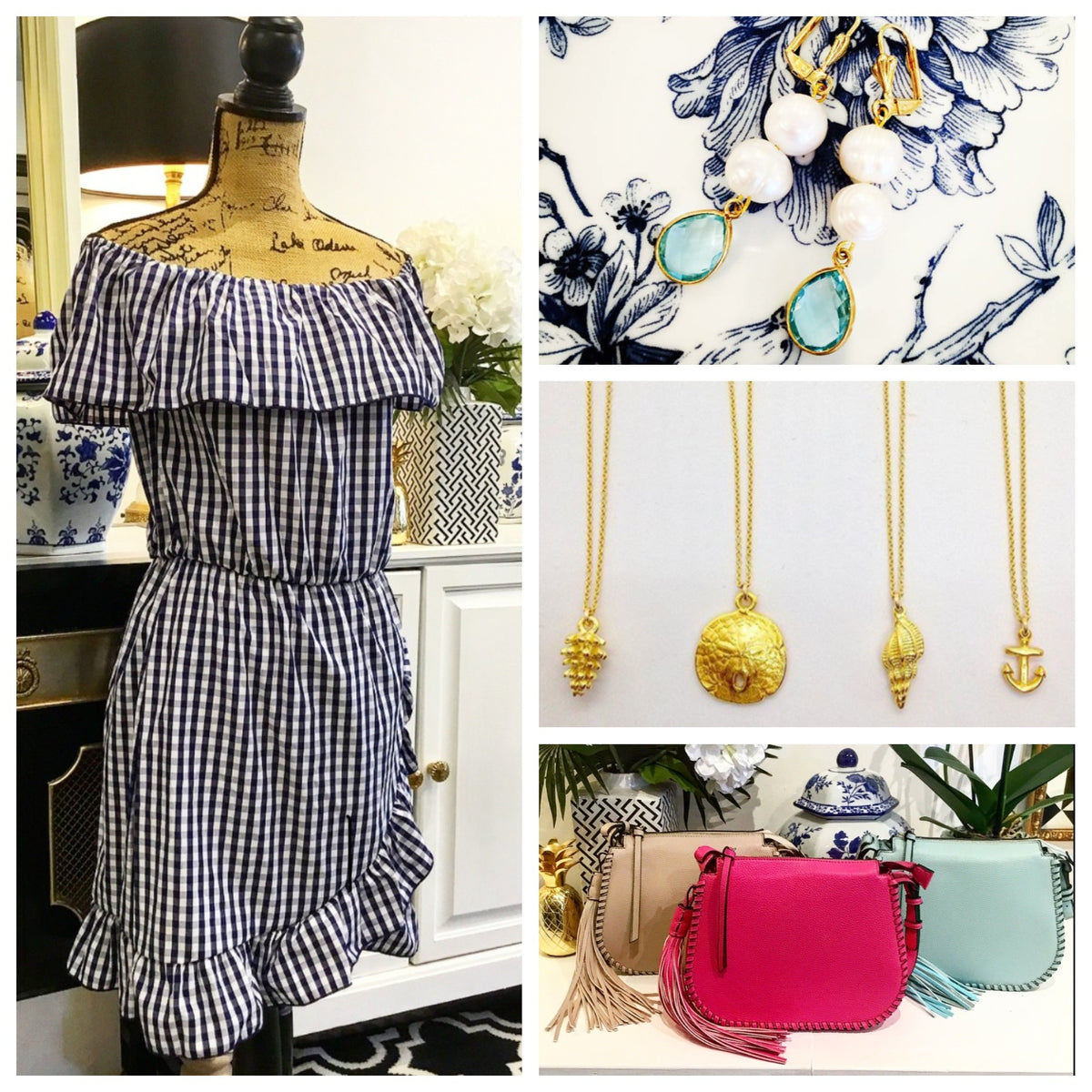 Happy fri-yay gorgeous fashion lovers! Summer is only days away and we are daydreaming of cute outfits for date nights, Sunday brunches with your besties, and garden party events! At Teramasu, our ambition is to encourage and continue timeless beauty and when considering classic fashion trends, we are crushing all over the chic preppy vibes in our one of a kind styles. The history of prep fashion is full of classy sophistication and style influenced by tradition. Following the men's prep fashion industry of the early 1900s influenced by the Ivy League Schools (and carried out by such brands as Brooks Brothers), preppy-influenced women's fashion emerged and became popularized in the 1960s (led by designers such as Perry Ellis and Lilly Pulitzer). The classic looks of the 60s and 70s included tailored skirt suits, low but classy heels, shift dresses, silk or cotton blouses, and chic jewelry. Within these clothing styles, they often included and still include elements such as nautical patterns, pastel and bright colors, or equestrian-themed detailing.
When it comes to classic prep styles, coastal vibes, classic prints, a pop of bold color, and some pearl earrings are the perfect way to channel your inner southern belle mixed with some major "Elle Woods" (Legally Blonde) and "Blair Waldorf" (Gossip Girl) inspiration. We are loving that Friday Feeling and popping the champagne on this gorgeous day in celebration of new arrivals and our new outfit/style guide featuring gingham, pearls, and nautical charm. So add a little prep to your step and check out our chic new outfit inspiration! 
Teramasu Blue and White Gingham On-Or-Off The Shoulder Dress with Ruffle Neckline and Hem
Gorgeous, adorable Teramasu Blue and White Gingham On-Or-Off The Shoulder Dress with Ruffle Neckline and Hem. This absolutely adorable dress is a true classic, perfect for your spring and summer style. It features a stunning timeless blue and white gingham print, flattering on or off the shoulder ruffle neckline, and cute ruffle detailing on its hem. 
Teramasu Double Pearl and Blue Topaz Leverback Earrings
Gorgeous, handmade designer Teramasu Double Pearl and Blue Topaz Leverback Earrings. These stunning statement earrings are the perfect blend of one of a kind style and sophistication with their classic pearl drop highlighted by beautiful blue topaz and 14k gold plated accents.
Teramasu 14k Gold Plated Charm Necklaces
Gorgeous, handmade designer Teramasu 14k Gold Plated Charm Necklaces. These gorgeous little gold charm necklaces come in an anchor, seashell, sand dollar, and pine cone. Necklace measures approx. 18 inches and charm measures between approx. 1/2 inch to 1 inch.
Whipstitch Saddlebag Crossbody Purses
These gorgeous purses come in hot pink, light blue, and light beige. They feature adjustable crossbody straps, leather-like high quality faux leather. gold-tone hardware and details, adorable tassel detailing, and a classic whip-stitch and saddlebag design.
...
The History & Meaning Behind the Preppy Design:
Gingham, a classic plaid, was made popular in fashion trends after Dorothy Gale wore a blue gingham dress in the Wizard of Oz (1900 & 1939) and Brigitte Bardot got married in a pink gingham dress (1959). It has since become a timeless spring and summer outfit staple. We cant help but love the classy, playful but sophisticated look of a gingham plaid dress especially when paired with our one of a kind, handmade Teramasu statement jewelry pieces.
Pearls are the perfect, meaningful stone as they are said to symbolize purity, generosity, integrity, as well as loyalty in its wearer. It has also been believed to promote knowledge, morality, and prosperity.  Pearl jewelry is considered to be the perfect accessory for brides on their wedding day, reflecting both tradition and class throughout cultures.Throughout time pearls were known as the "Queen of Gems," possessing a history, respect, and appeal far exceeding how today's wearer may view the gem. As evident in much of recorded history, a natural pearl piece of jewelry was considered to be a treasure of unrivaled worth and value, at one point standing as the most luxurious and exclusive gemstones and pieces of jewelry in the world. Pearls are truly one-of-a-kind amongst other gemstones because they don't come from the earth but are of the sea. Pearls are considered to be the only gemstone naturally produced by living creatures (mollusks) and when it comes to their natural beauty, they require no special shaping or enhancing in order to make the most of their radiant exquisiteness. Their natural shine and gloss (which has become its signature trademark) has been treasured and cherished since ancient times well into fashion and Hollywood icons, ensuring that pearl jewelry always remains in style.
...
xoxo,